Men Sneakers Outfits 18 Ways to Wear Sneakers Fashionably
Thick woolen coat with jeans and clean white sneakers. An excellent look for businessmen and city folks, particularly when on business travel. Check out these Men Long Coat Styles for some more awesome styling tips.
Sneakers will be considered a bit off the track at work; however, nowadays there are workplaces which have allowed semi-formal attires at the office. Hence, there is no harm in wearing pure white low-tops with a maroon blazer, matching slim-fit pants and a thin maroon tie. All of these with a white crisp collar shirt is all you need to kill the office look.
Simple yet effective look with grey jeans, striped top, and baseball-style jacket. Low-top white sneakers finish this look off.
On the other hand, if you want to dress up, not down, then the luxury ones are perfect for you. As parties are mostly held to flaunt the latest trendy looks, wear white slim pants with luxury black sneakers and corduroy pastel pink jacket to mark your statement. This look is exceptional for spring parties, and accessorizing with such looks only adds to the trendiness of the attire.
Distressed style jeans and distressed, unlaced high-top converse with a blazer, cardigan and grey top make for a great city style casual yet swaggy look. Accessorize this look with a quirky colored tie. Here are 30 Best Men's Outfit Ideas to Wear with Monk Strap Shoes
↓11-Ideas to Wear Sneakers with Shorts
Want to wander the streets during spring in fashion, the florals with slip-on sneakers are the answer for you. Florals with sneakers are the ultimate summer-spring look and adding plain white shorts to this combo will add a subtle touch to this highly fashionable silhouette. Wear some leather bracelets and classic shades with this attire to rock the streets in style.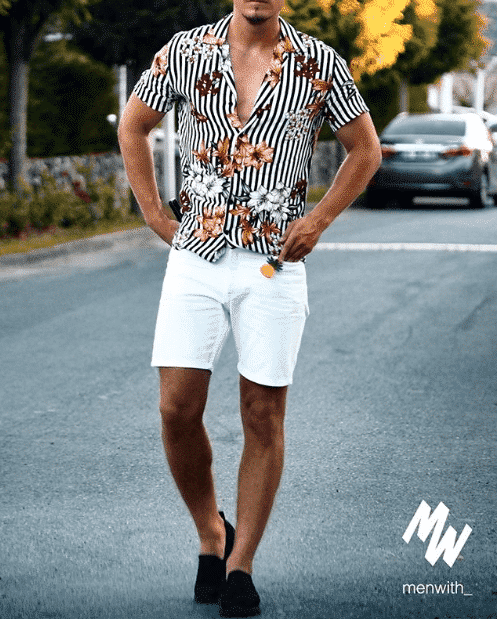 In case you want to experiment a bit with luxe neon sporty kicks, then your clothing needs to be monitored closely. Neon orange athletic shoes with grey denim shorts and a white cotton shirt will create an attire which is both decent as well as modern.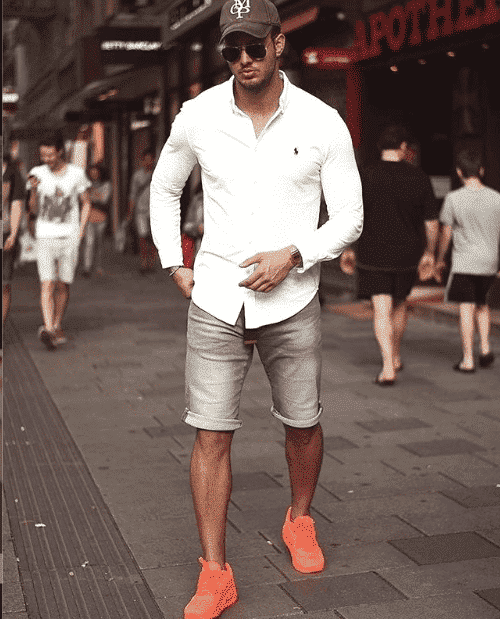 ↓10-Cool Student Style Sneakers
A great and stylish look for broader guys which utilizes sneakers perfectly. Open tartan shirt rolled up jeans and black sneakers. Top it all off with a simple beanie, and you are ready to go to your college or university. Faded jeans with a wider cut can be pinned up to compliment the sneakers. A pair of jet black sneakers are usually owned by every young lad out there, then why not experiment with a different look with these classics.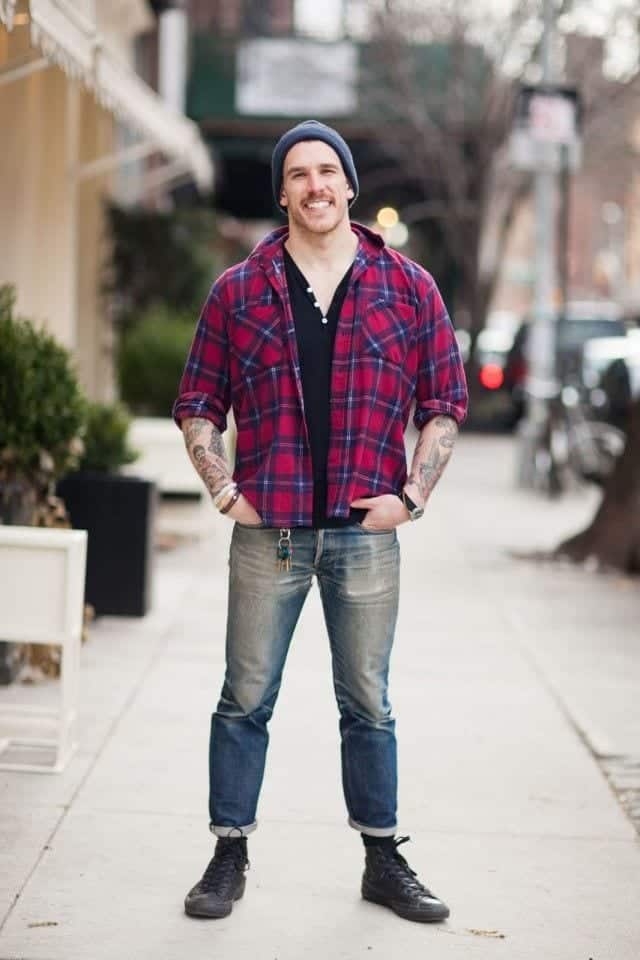 Via
Get noticed at college or university with this stylish look with a pair of bold and gold sneakers. A dark velvety blazer and skinnies topped with a beige tee will complement these bold, luxurious sneakers. Complete this style with sunglasses, and cheeky touches of jewelry. The look is perfect for men who can pull off any fashion without being criticized much. Here are 20 Shoes To Wear With Guys Sweatpants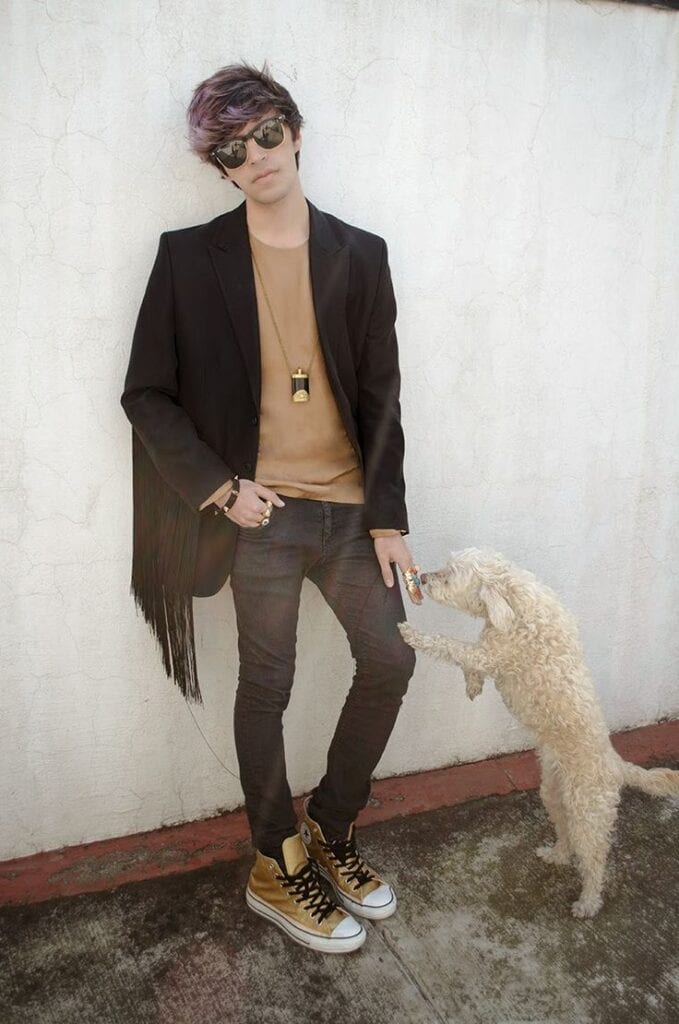 Via
And here's our favourite college look with coffee brown colored sneakers by Paul Andrew, paired with brown chinos.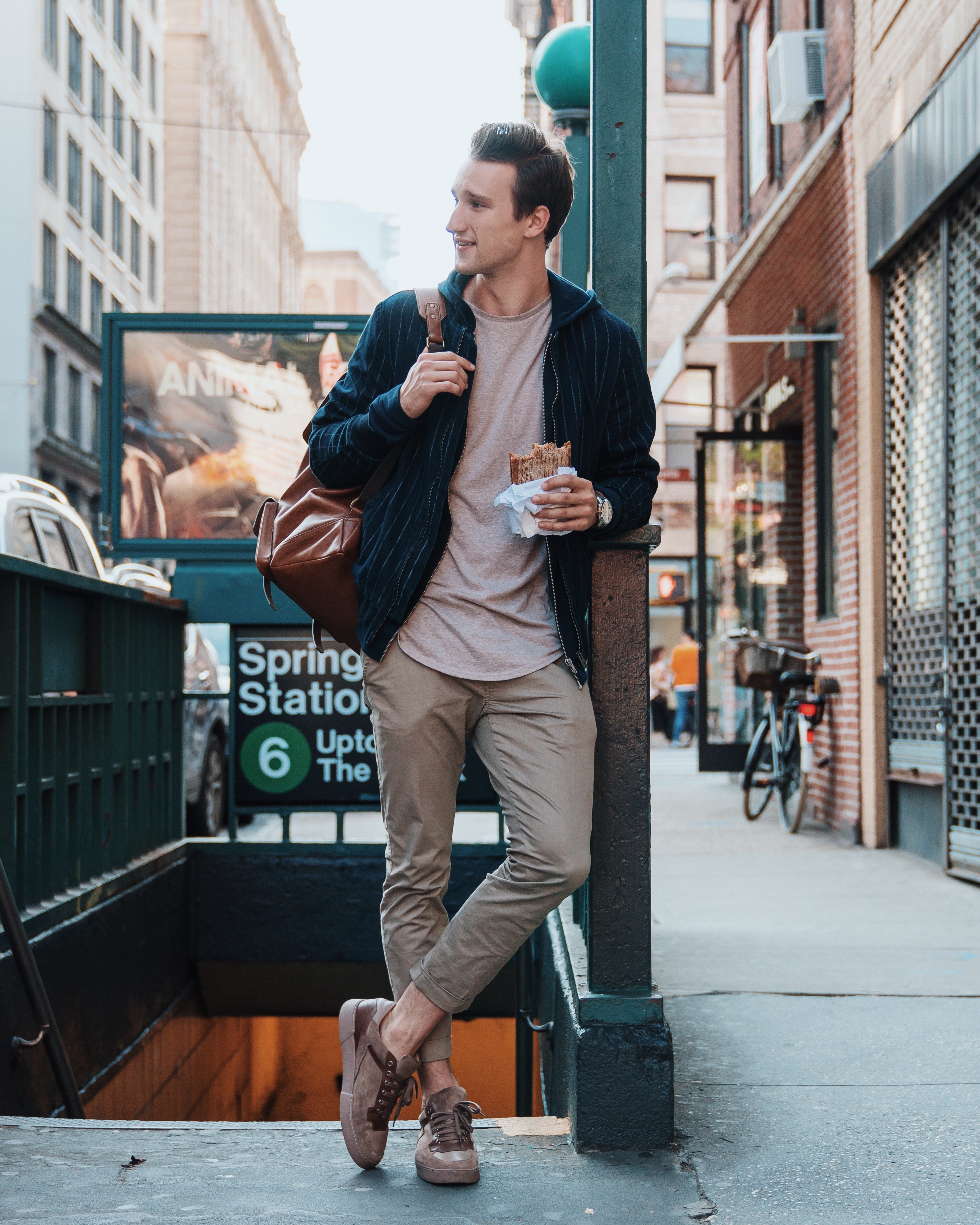 Via
↓9-What to Wear with Red Sneakers?
City hip-hop style is somewhat considered trendy at all times. Create a jet black attire with the help of a luxurious black leather jacket worn over a basic black tee and classic black chinos. Complete this hip-hop look with red current sport sneakers, which catches the attention of the public instantly. You should have a look at these Red Shoes Outfits For Men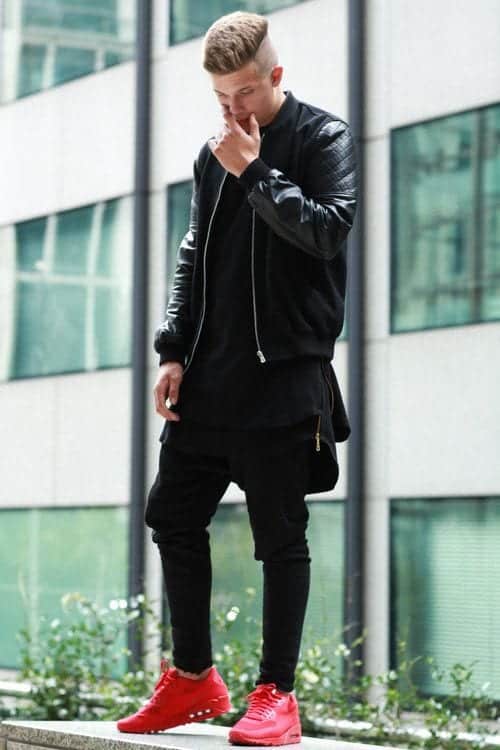 Via
↓8-What to Wear with Converse Sneakers?
Converse shoes are the simplest to style and can be rocked by men of any age or height. Wear a denim jacket over a basic grey tee along with your super casual high-top converse and you are ready to go anywhere around the world.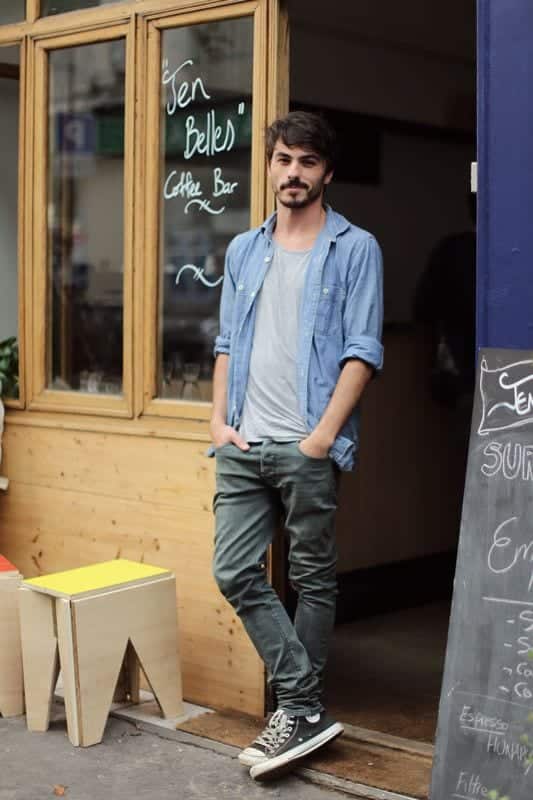 Via
↓7-Rocking White Sneakers
Black jacket with a simple white t-shirt and skinny black jeans matched with crisp, clean white sneakers and accessorized with sunglasses and a large holdall bag is the way to go about it. Here are 16 Trendy Ways to Wear White Shoes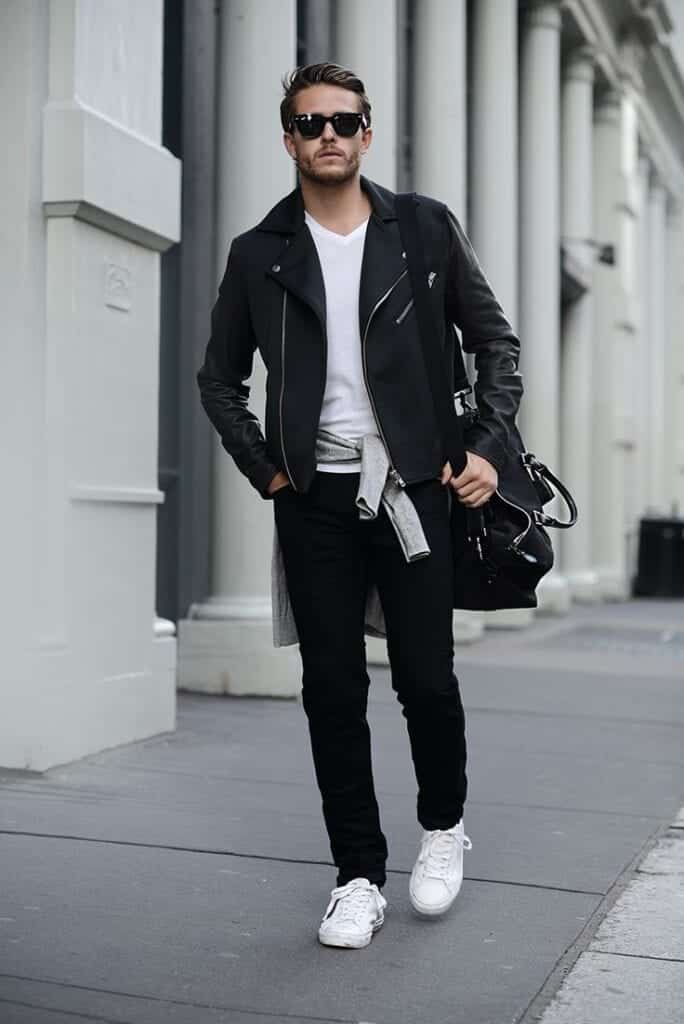 Via
A retro-style look can be created with the help of a trilby hat and a charcoal suit worn over chic white low-top kicks.
Via
↓6-Amp Up your Autumn Look with Sneakers
Layering up is the key to a fashionable attire during autumn. Wear a denim shirt and top it with some round-neck grey colored sweater and an olive suede jacket. Wear the look with refined, luxurious converse.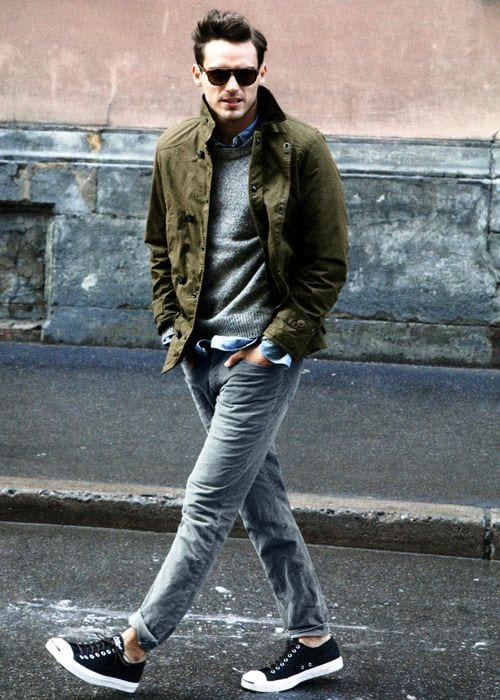 Via
↓5-Men's Funky Outfit with Vans Sneakers
This look is not something that anyone can rock, but if you're daring enough and like to go for bold, shiny outfits then do give it a try. Here we see a vinyl jacket in black, that has been paired with purple sweatpants and vans sneakers. It's a sporty but funky look, making it a unique combination. If you wish to buy this outfit, then you can get the jacket from ASOS for $103, the purple sweatpants from PacSun for $54.95 and the Vans authentic checker tape shoes are currently available here for $99.95. You should also have a look at these 20 Fashionable Ways to Wear Vans Shoes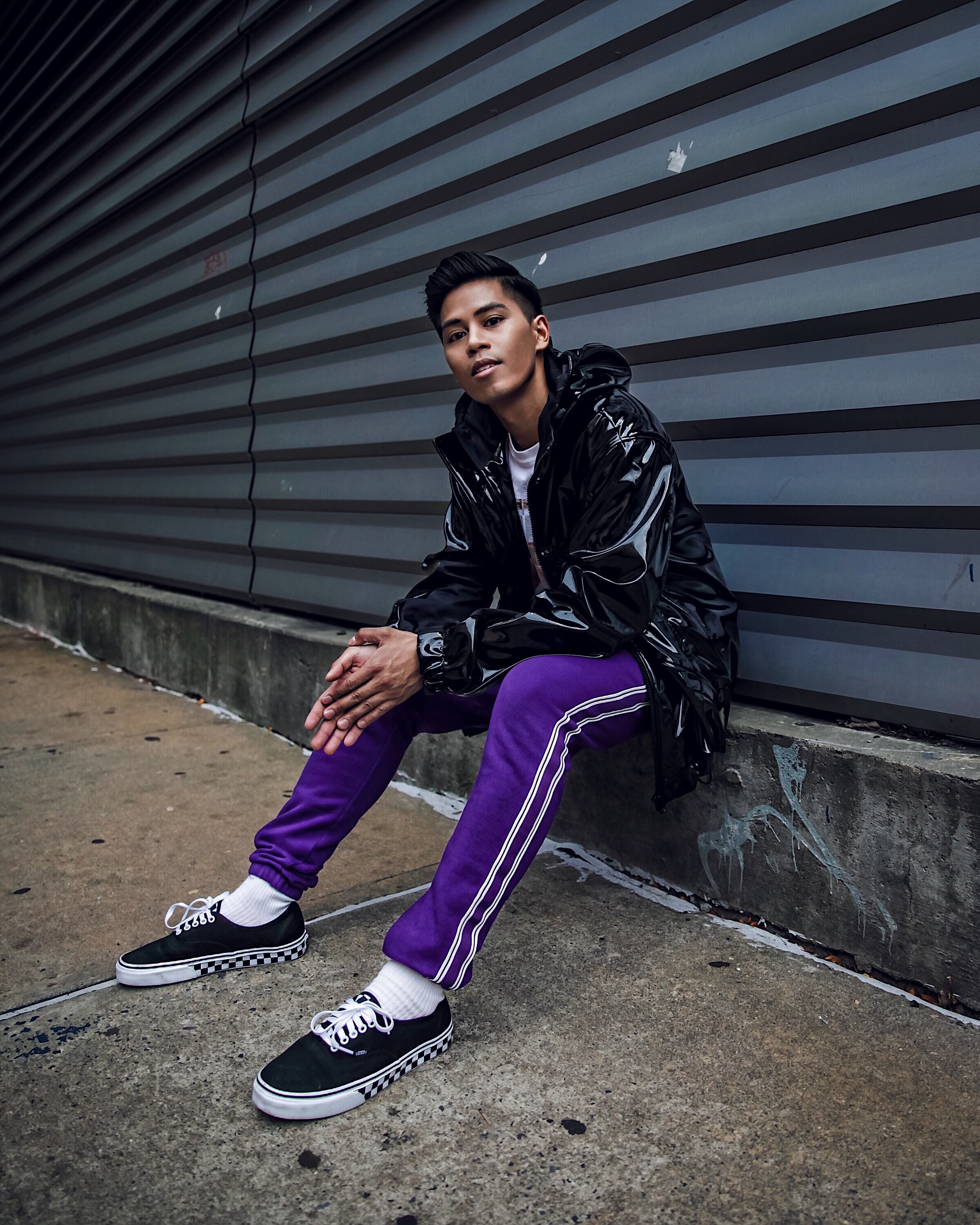 ↓4-Rainy Streetstyle with Classic Sporty Sneakers
Winter wax coat with matching skinny jeans are going to keep you super warm and safe in the cold rainy weather. I wouldn't say these sneakers are great in the rain, but they will complete your outfit and the high-heeled shoes will help with the weather condition. Here are 18 Best Winter Outfits Ideas For Men To Stay Fashionably Cozy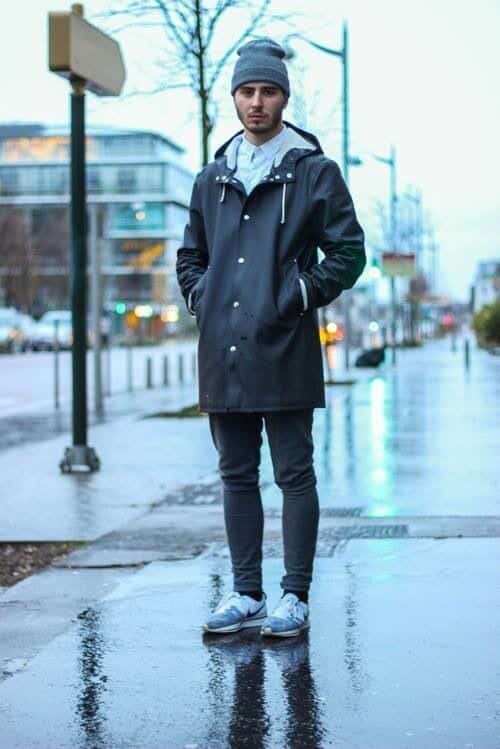 Via
↓3-Perfect Designer Kicks for Teens
This a perfect look for teen fashionistas. Leather jacket over a simple white t-shirt matched with skinny jeans and a black beanie. Subtle contrasting coffee coloured high-end designer sneakers will do the job. Let your shoes do their job and keep the outfit neutral or in a simpler term monochrome as the shoes will help grab the attention.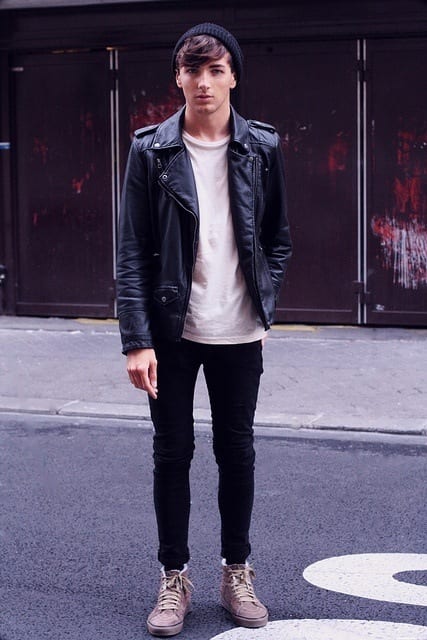 Via
↓2-Styling with Neons
Feeling brave? Why not rock the neon look with green high-tops? With Leather jacket and patterned t-shirt, these will definitely get you noticed.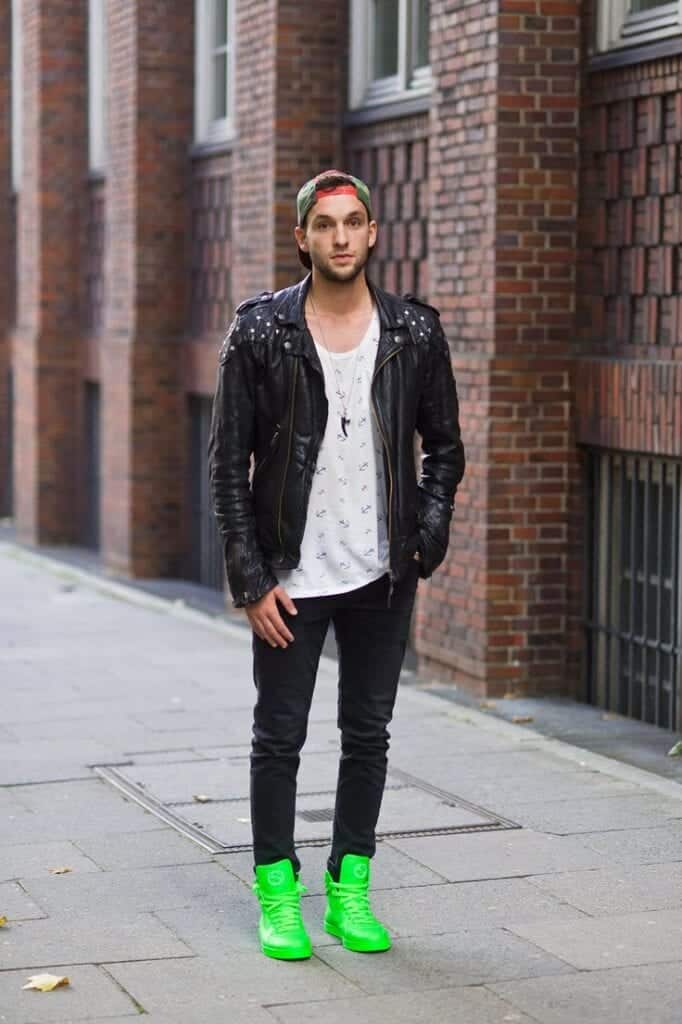 Via
↓1-Ultimate Vintage Style
Go against the grain and add some stripes to a satin suit for a hint of rebellion. Contrasted beautifully with blue low top sneakers which give it a more casual yet vintage vibe.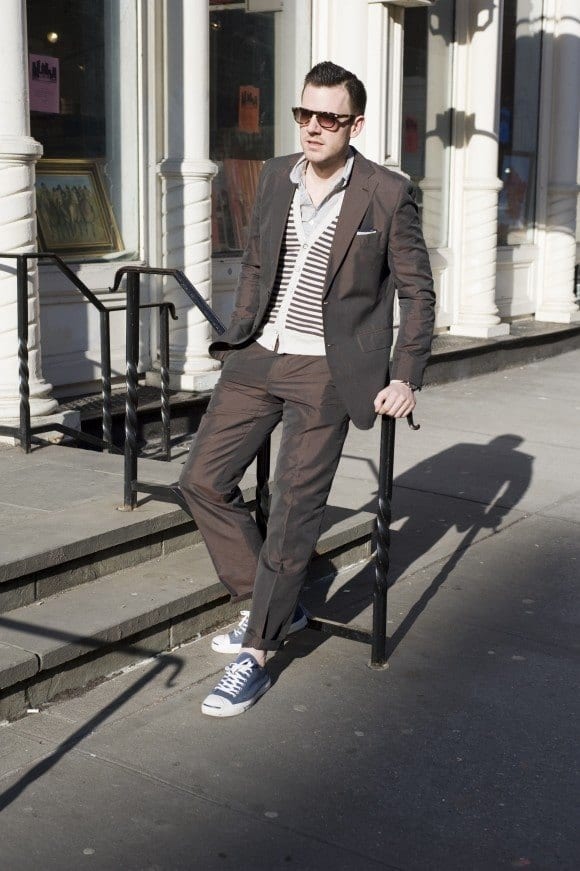 Via
How to Wear High Top Sneakers Guys
Here are some of the coolest ideas as what to wear with high-tops for men. Check them out as well.
Spring-Summer Look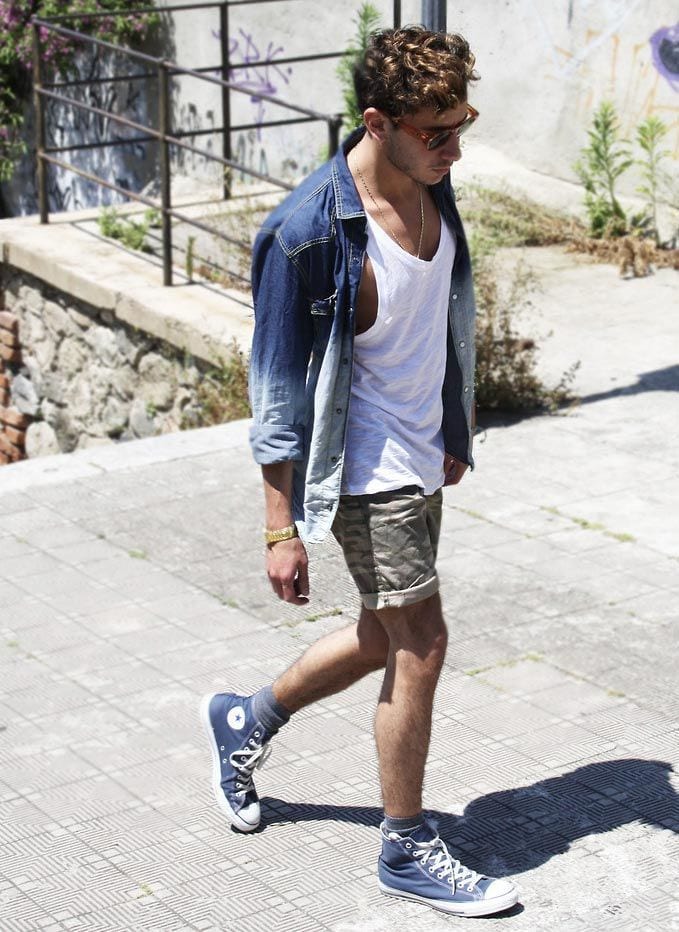 A Little Quirky Look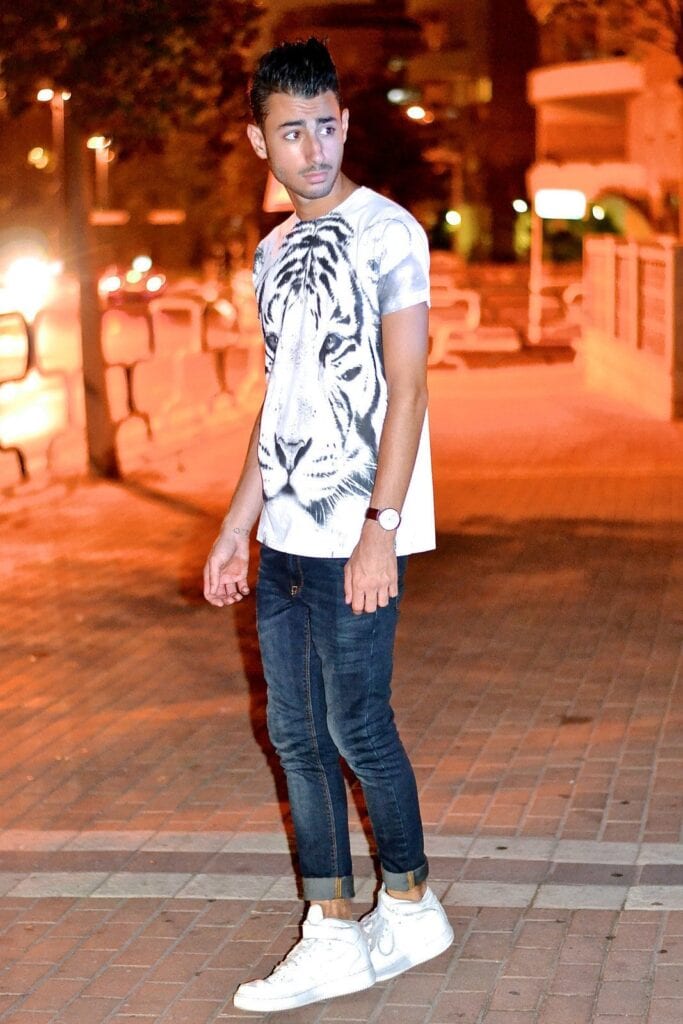 Smart Casual
With a Suit
For Men Over 50s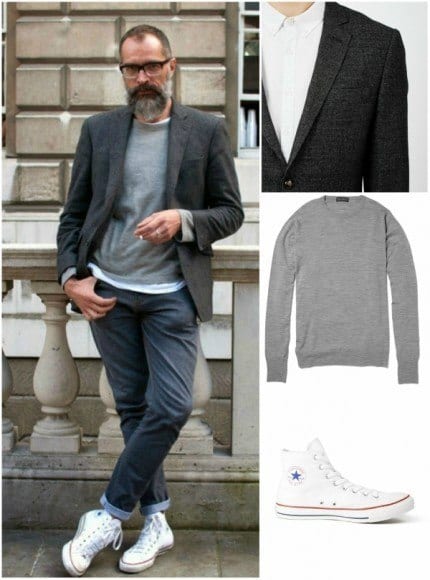 source: https://www.outfittrends.com/