Celebrities have always been the perfect inspiration for us. Sometimes makeup, sometimes hair, and sometimes fashion. So, today we're looking at one of the most iconic celebrities: here's a huge gallery of 40+ Khloe Kardashian Outfits.
Khloe, who is quite ambitious, offers us great suggestions, especially on street style. So, what are you waiting for? Let's scroll down!
1. Khloe Kardashian Outfit
The coolest jacket with lacy bust top looks pretty hot. The ripped denim completes this view wonderfully. Fluffy slippers? Our thoughts on this subject are a bit confused. 🙂
Written by Harmon Leon
Get ready for some great historical nuggets of interest and intrigue. We have 44 - count 'em - 44 photos that chart extraordinary, fascinating, and plain bizarre moments in history.
To wet your whistle, not only do we have a young Marilyn Monroe working in a munitions factory, but we also have awestruck photos of the first tattoo lady, the Statue of Liberty's face arriving by boat, Bea Arthur's military ID, a hunky 21 -year old Winston Churchill, and baseball great Lou Gherig's audition photo to play the role of Tarzan.
Let's journey forth into the wild world of imagery intrigue - with photos that will leave you with some great factoids. Onward!
This young lady working in a Van Nuys, CA factory in 1944 would soon become a movie star by the name of 'Marilyn Monroe'.
History
Have you ever looked up at an inner-city Victorian shopfront and wondered what's going on upstairs? Truth is, many of these residences are vacant or underutilized. Smith St Caretakers offered tsai Design the perfect opportunity to bring this type of building stock into the modern era: thriving business downstairs, sanctuary above.
Architecture
Is your child one that gives up easily? Do they sulk and say "I can't do it" when things get difficult?
Or is your child brave & resilient, knowing that with the right effort and strategies, she can accomplish anything?
These two very different mindsets start during childhood and follow your child right into adulthood. They are described by Dr Carol Dweck at Stanford University as a Fixed mindset vs a Growth mindset.
People with fixed mindsets believe that their skills and abilities can't be altered in a significant way, that they are "fixed." This is the child who believes they just aren't good at math and that no matter what they do, they never will be. People with fixed mindsets avoid challenges and r...
If understanding someone requires walking a mile in their shoes, what can you learn from driving 400 miles in their car? More than you might think—and we're not talking about personal hygiene or deferred maintenance. It only took a few hours behind the wheel of the 2020 Dodge Durango Pursuit, a civvy Durango dressed for agency-agnostic police duty, to see that the roads are a completely different place on the other side of the badge.
Among the many insane things Fiat-Chrysler does is loan out examples of their police vehicles for review, which is how we ended up driving one around Indianapolis for a week this fall. The prospect of using a cop car as a daily driver sounded cool at first even if the lights and sirens were off-limits on public roads. But the total experience is far more complex than having cool gadgets or spooking speeders. Driving an SUV that looks like it genuinely belongs in a police department can be hila...
Planning an outdoor wedding? Then this is the blog post for you! We know that organizing a wedding can be overwhelming but we are here to help and have found 23 creative ideas for your special day. We have decor ideas, fun activities and little ways to make the day the best it can be. So, take a look and get inspired!
1. Outdoor Wedding Sign Idea
The first idea we have for an outdoor wedding is a beautiful sign. You need to welcome everyone to the best wedding of the year and a sign like this is a way to do it. It features all the important information with a rose flower arrangement. You can have a sign like this created to suit the theme of your wedding.

Love DIY projects? We've got a super fun one for you today: pop up cards!
Now when a family member or friend has a birthday – you can give them a special card that has that extra "Wow!" to it, all without spending as much as buying another gift for them. Best of all, making pop up cards is a lot of fun too.
Now, this is a terrific DIY project to do as a family – so let your kids & teens make pop up cards too! But do keep in mind they may need a bit of supervision – because most pop up cards are made with an x-acto knife and scissors. Keep your child's age and experience with these tools in mind when do...
Now let's share some dapper kurta-pajama styles for you by the ever so loved and famous Indian male celebrities, without further ado, let's get into it.
Who can age more gracefully than Mr. Bachchan! The way he paired his statement kurta with a white pajama and golden velvet moccasins that had golden tassels. The shoes definitely elevated the otherwise subtle attire, adding the young and energetic vibes that he is known for.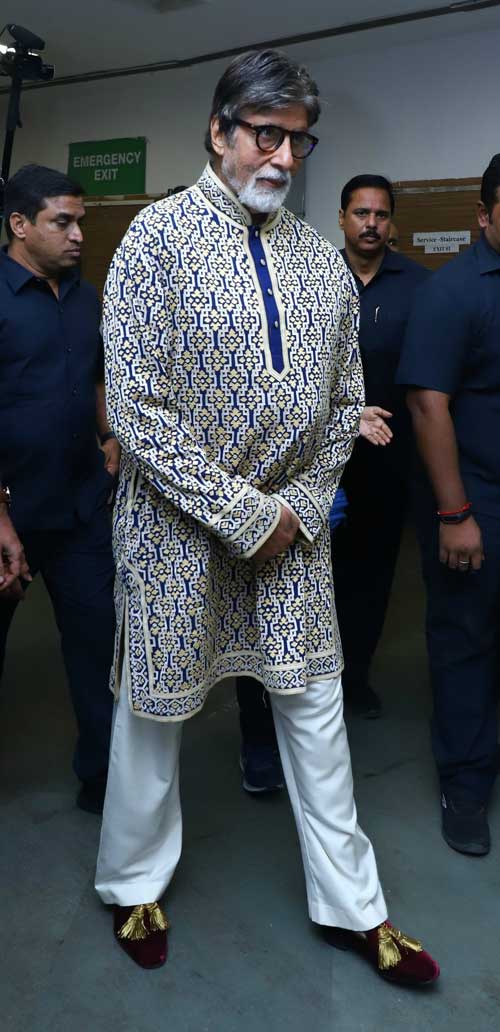 Here's another look from the Big B, as once again he's seen upgrading a simple look with the right choice of accessories. This time, his silver bird stole is stealing all the limelight at the Ambani wed...
Below is a list of the top 50 travel blogs for the 2nd half (July — December) of 2018 ranked by visitor traffic.
There are a few other sites that have put together their own lists of the "top" travel blogs.
However, each has their own subjective means of ranking sites, using everything from Alexa scores, Twitter followers, Facebook likes, estimated traffic, inbound Google links and even subjective design criteria.
My intention was to create the most objective and accurate list of the most popular travel blogs.
Therefore, this list is based solely on the number of visitors a travel blog receives. To read more about how this list was put together, please read below.
Top 50 Travel B...
Family photography dates back to the first appearance of cameras. People want to immortalize their families and relatives for posterity, for record purpose, to create a keepsake, a token of love hanging in the home.
'The best thing about a picture is that it never changes, even when the people in it do.'

Andy Warhol
Your goal and responsibility, as a photographer, is to show the bond, the uniqueness of each family and freeze it in time.
With essential tips and suggestions to create good family photos, this article will help both professional photographers and their clients to get the most out of a family photography session.
How to Prepare for a Family Photography Session
From choosing a location to right outfits, a lot should happen before you start clicking the shutter button.
Let's go through the preparations…
Get to Know the...
<Previous 3 [4] 5 6 Next>