Don't let a tight budget stop you from making something wonderful for your loved ones! These Amazing Christmas Gifts You Can Make on a Budget include ideas for pretty much everyone on your list. We've rounded up ideas from some of our favorite bloggers that are perfect, even for last minute gift making this holiday season.
These Christmas gift ideas are easy to make and economical. You might even have some of the supplies you need for making these crafts already in your stash. Some of them are a great way to use up scraps you have left over from other craft projects. You'll find something here for nearly everyone. Don't let a lack of funds keep you from giving something special to your loved ones this holiday season.
Holidays and events
Before we know it, Christmas will be here! No, don't panic. We've found you 40 fantastic Advent calendar gift ideas, especially for adults.
This has become one of the most popular gifting trends for the Christmas season – Advent calendars for adults. In our hand-curated selection, you'll quickly discover wine and beer Advent calendars, ones that are ideal for your cat or dog, calendars that feature beauty or skincare products, and Advent calenders with tempting treats such as truffles or marzipan – that likely would be more delectable for ...
A suitable hairstyle can add more charm to your look. Some hairstyles can offer you a sexy look while some others may create you a cute effect.
There are a large number of cute hairstyles available. Whether your hair is a straight one, or wavy or curly, you can always find the most suitable one. You can choose the wonderful braids, lovely ponytail, or cool layered hairstyles or fashionable bobs. Now, we will recommend them in detail.
Cute Hairstyles for Girls: Braided Long Hair Styles / Hair and beauty
The art of tattooing has come along way and now even more stunning designs are being created. One amazing tattoo trend is UV or black light tattoos. These tattoos are created with dye that is visible under an ultraviolet light. You can get tattoos that are visible both in and out of light but the design will glow under UV, or you can choose a tattoo that looks almost invisible until it is placed under the light. This is such a modern and cool way to make your tattoos stand out from the crowd. We love this illuminating tattoo style and think that you will too and to show you how awesome it is, we have found 23 UV tattoo ideas. There are butterflies, designs inspired by movies and more. If you didn't love the glowing tattoos before, you will after this!
1. Stunning Floral UV Tattoo
The first UV tattoo that we have to show you is stunning. This design features a flower bouquet and once the black light is on the tattoo, the petals glow orange and the l...
Is it Halloween when you're reading this? If not, don't worry: every day can be Halloween when you try hard enough.
There is nothing quite as fun as embracing the spooky, the creepy, the scary, and all that goes bump in the night. Thankfully we have horror movies to help us down these crepuscular paths. If you ever find yourself in need of a thrill or a chill, check out some of the best horror movies on Netflix, we've gathered here.
Every streaming service takes its sacred duty to scare seriously but Netflix in particular means business. These are some of the best ho...
Green interiors can be great ambiance builders when crafted in deep shades, but once the background colour is on it can be difficult to get a grasp on where to go with the theme. These four interiors illustrate how to furnish and accessorise an all-green room, as well as how to build colour via furniture items themselves. We have green living rooms, green bedrooms, green bathrooms and a green kitchen to feast your eyes on, and gather tips to craft your own gorgeous space. You might just colour your friends green with envy!
From all holidays in the sun, Rio de Janeiro in Brazil might be the one with the most activities to partake in. With its vibrant nightlife, iconic attractions and one of the seven wonders of the world, the city, which was once the capital of Brazil, has a lot to offer travelers from all different tastes.
1) Museu do Amanhã (Museum of Tomorrow)
Designed by the neo-futuristic architect Santiago Calatrava, the applied science museum aims to create an open dialogue about the next 50 years. It takes in consideration all of man's alteration of the world in its primary state while emphasizing ethical values and shining light on issues that need our urgent attention. Aside from the expositions available, the museum also host...
The best Vegan Coffee Cake ever, and it's SO easy to make! Perfect for holiday celebrations or weekend breakfasts.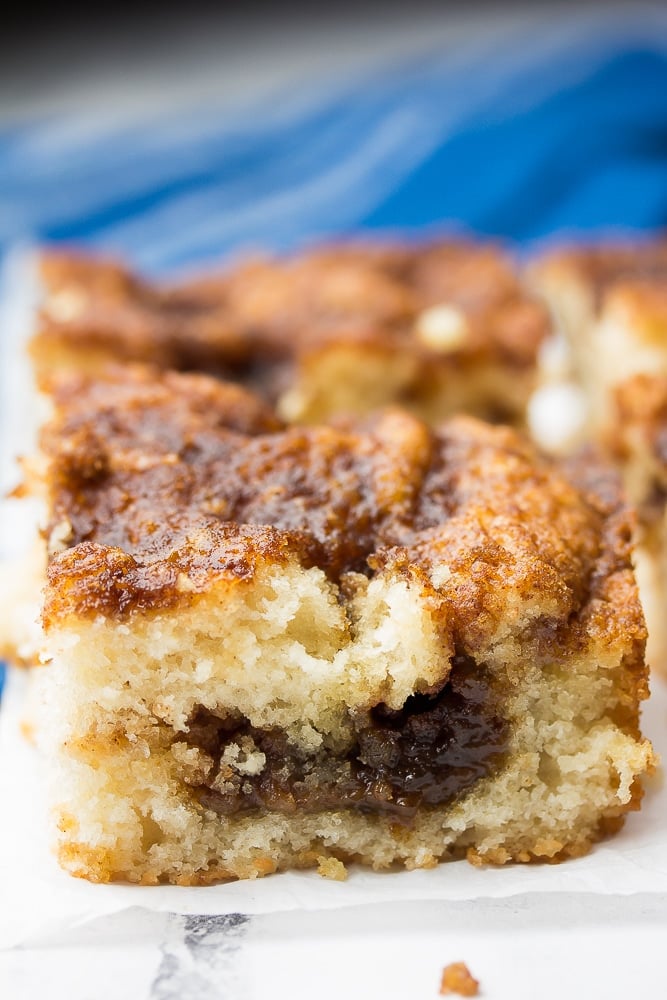 It's such an easy recipe with no fuss at all! It's moist, fluffy and full of cinnamon streusel goodness.
How to make vegan coffee cake
The full recipe is at the bottom of the post, but let me show you how easy it is.
Make the coffee cake batter, and pour half into a lightly greased cake pan. It doesn't have to be exactly half, just estimate half.
Make the streusel (it's just combining cinnamon and brown sugar). Sprinkle half of it on the batter, then pour the rest of the cake batt...
Models dependably have a group of beauticians to make them look fabulous while on obligation. Be that as it may, when they escape their creator attire to wear celebrity casual outfits, out of this world shoes and perfect cosmetics, what do you think these models have on?
It's not astounding to discover that it's generally jeans. Enjoying some downtime, models like to be agreeable enough to do their different occupations like deal with their children.
If you're looking for celebrity casual outfits, Look at these 25 models who we think have the best celebrity casual style!
1. Selena Gomez 2019 Look
Selena is always fashionable and stylish! Even in this casual outfit, she still looks SO classy! Jeans with white sneakers, black jacket over a white dotted black bl...
No doubt hunting has been there since the development of mankind, and when it comes to hunting, then the dogs are the best human partners. It is believed that dogs and humans have been doing hunting together since the development of mankind and the beginning of the dogs' domestication. Hunting has been a fundamental part of survival for humans and dogs since their creation. However, later on, hunting became the best sport for humans than a way of life. Do you know about hunting dogs? These dogs are the human's development, which is trained to prey. Yes, we humans have been developing dogs into specific breeds with specialized traits. The best thing is today's developed purebred hunting dogs are now the part of the AKC sporting group ...
<Previous 1 [2] 3 4 Next>